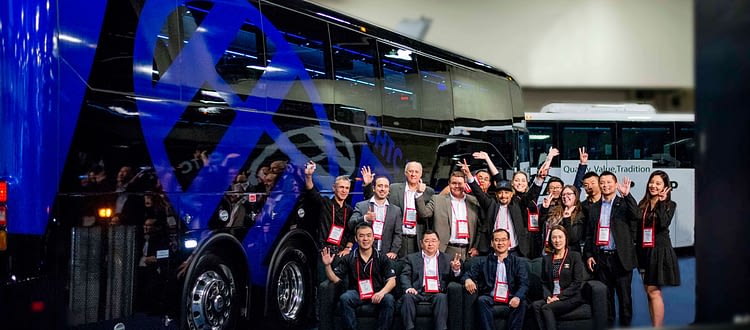 We hope Fort Lauderdale has recovered from the massive party we had at UMA last week. What a wild ride it was. We worked hard setting up our booth and making sure our buses looked great for the show. But we played hard too.
First there was the luncheon. We met some great people there and had an opportunity to speak to people we had never reached out to before. It was a fantastic event for networking. And that beach party! It was the perfect way to kick off the first day of the show. It's always great to check out the amazing products and services on offer at UMA. We are lucky to have some of the most amazing innovative thinkers in the motorcoach industry. Each year, CHTC is greatly impressed to see what's going on out there.
This year, we brought our newly remodeled 2019 HT-Series coaches to show. We're really aiming to give our customers the best of both worlds. Competitive pricing and essential features. Our new model year coaches feature some important improvements that we know our customers have been thinking about. The new 2019s feature smaller steering wheels, keyless ignition, LED indicator lights, larger fuel doors, slide out battery trays, improved paint, redesigned bumper hinges and stays, and more. Really, you'd have to come pay us a visit to see the coaches to understand the full scope of all we've done to make the HT-Series the coach every operator needs.
Speaking of paying a visit, we'd like to take this opportunity to thank everyone who came by to say hello and see our amazing coaches. The overwhelming support we receive from all of you encourages us to continue the hard work we do perfecting the HT-Series. We're excited to say that the new models are already leaving the warehouse and heading out to their new homes.
If you haven't seen the new HT-45 and HT-35, you're missing out. Contact a member of our sales team today to schedule a demo or reach out to us by phone or email for more information.
CHTC has just one question at this point: Who else still has Baby Got Bus stuck in their heads?