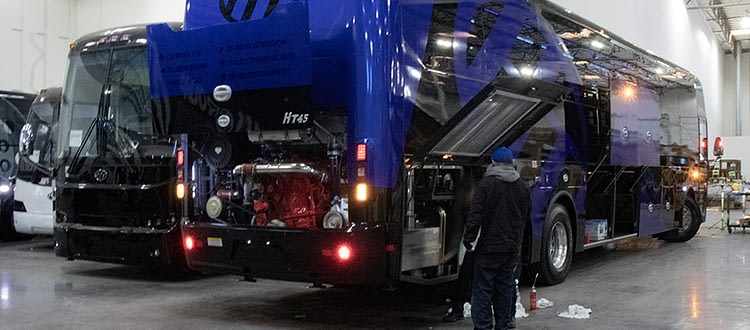 It's that time of year again; we're off to UMA! The show will lead 2019 off with a bang in beautiful Fort Lauderdale, Florida. For attendees from the colder states, it must be a welcome change. A beach party, the sun, perfect weather, and a bunch of shiny new motor coaches… what could be better?
It's not all fun and games, though. It takes tons of work to get ready for a show. Companies invest significantly into displays, swag, promotional materials, transportation, staff, and more, just to make the show experience exciting and fresh.
For CHTC, that also means making sure our motor coaches are up to snuff.
This year, CHTC is bringing two all-new coaches to show. Quality control started months in advance. Our HT-Series motor coaches are assembled in Nanchang, China from high-quality parts (the vast majority of which are American-made). Our facilities there are state-of-the-art and have been manufacturing the best buses in China for over thirty years. But QC doesn't end there.
Once we received the expertly-built 2019 coaches at our headquarters in Chino, California, we began our own rigorous inspection process. We went over the vehicles entirely, inspecting every nut and bolt, every inch of the frame, every weld, every filter, every LED, to make sure the workmanship lived up to our exacting standards. Of course, we were not disappointed. And you won't be either.
Come to booth 1822 to see our brand new, 2019 HT-45 and HT-35 coaches at UMA. We have exciting features to show you. We're so proud of these coaches and can't wait to show them off. Come say hello. Drop by our custom-made bus bar and have a drink. Talk to any of our expert sales staff. Schedule a demo. But most of all, let's have a great time together. We'll see you all there.
Don't forget to check us out on Facebook, Twitter, and Instagram for updates from the show.