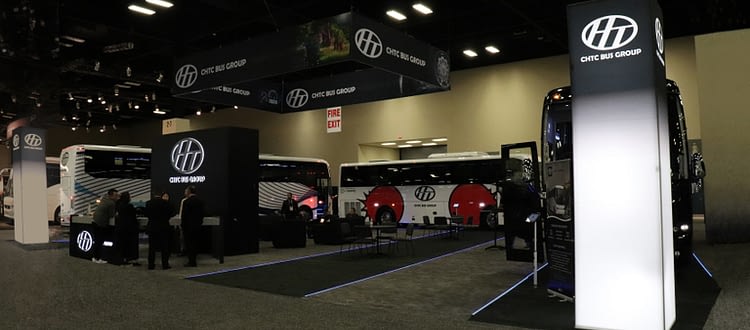 CHTC LCT and UMA 2018 Roundup
Round 'Em Up!
Once again, CHTC Bus Group has been making the rounds at tradeshows, meeting industry leaders and  listening to what operators and passengers have to say.  Some of our best experiences this year came from
LCT
and
UMA
.  Of course, the networking is great, but that's not all it's about.  Both LCT and UMA provide a terrific opportunity for manufacturers and vendors alike to hit the crowd with the old razzle dazzle.  Not only that, but it's also a wonderful time to learn about what drives the industry (figuratively and literally!). It's amazing to see everyone pull out all the stops for shows.  Manufacturers are there to represent their brand in full force.  This means the atmosphere at expos is always fun and exciting with a bit of friendly competition.  Of course, CHTC showed up with the intention to wow.  We're thrilled with our HT-Series, and we want you to be just as enthusiastic about them.  So, this year we had a brand-new design for our booth.  It was go big or go home, and we were definitely turning heads!  We were overwhelmed by the positive remarks we kept getting about the redesign.  Keeping things fresh and relevant is important to CHTC.  Keep an eye out for more surprises from us.  We look forward to seeing what everyone else brings to show next year. Operators have been telling anyone who would listen that parts inventory and turnaround time on service are some of the most crucial factors they consider when purchasing a coach.  It's all about increasing uptime.  Therefore, it's no surprise operators really enjoyed talking with our technicians.  When it comes to service times, part availability, and maintenance, who would be better to ask?  We heard your concerns and we're glad to report that you're in good hands.  It was fantastic to see operator's worries fade away after a brief chat.  Also, as a new entrant to the market, we have so much information to get out there, and we have a lot to learn as we meet America's operators.  That's why we love these events.  We appreciated that everyone took the time to learn about us. One thing we kept hearing again and again from operators was how much you've noticed the changes we've been making.  Using the data provided to us from our customers to perfect our coaches has always been of the highest value to us.  Knowing that our efforts are paying off gives us a sense of pride.  More importantly, it shows us we've been improving the experience of your drivers and passengers.  We've said it before, but we really mean it when we say we're striving to produce the perfect luxury coach.  Thank you for helping us reach our goal. As far as the events themselves?  First of all, they provided fantastic locations.  Secondly, they present excellent networking events, and a wealth of knowledge on a wide range of topics.  Most noteworthy, some of the speakers brought in by LCT and UMA have been in the industry for decades.  We want to thank all the speakers for their valuable insights, helping us to stay competitive and relevant in a constantly changing industry.  One of the most valuable aspects of tradeshows has always been the learning opportunities they provide.  It would be such a shame not to take advantage. Certainly, 2018 has been a fantastic year for tradeshows.   As usual, we've been busy, and the fun hasn't stopped yet.  In fact, we'll see you all in just a few months at CBA.  Keep an eye on our
news
page to see if we manage to squeeze any more shows into our already packed schedule.  We're ready.  Are you?