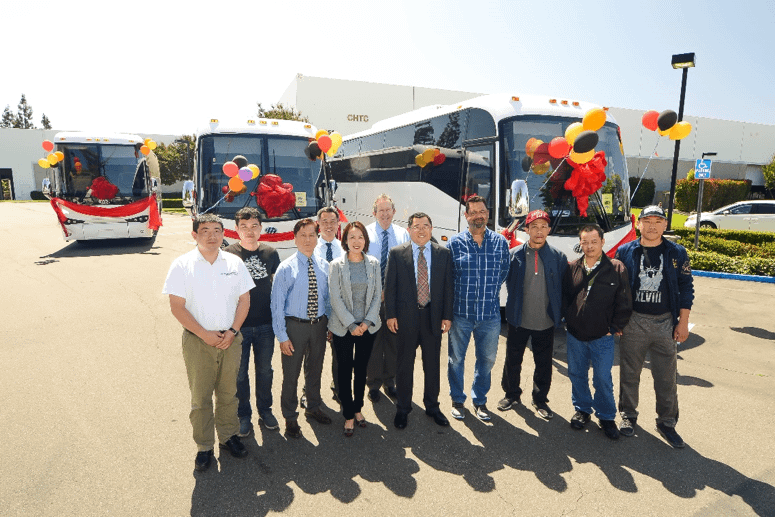 CHTC BUS GROUP PRESS RELEASE
PRESS RELEASE FROM CHTC USA BUS GROUP:
FOR IMMEDIATE RELEASE
OCTOBER 19, 2017
CHINO, CA
CHTC Bus Group has exceed its sales goals since entering the U.S market in 2016 with the first-generation version of its HT35 and HT45 series buses. Scott Thorpe, Vice President of CHTC Bus Group, the company's U.S. Subsidiary said " We are excited about the success, the company and its products, and look forward for greater things in 2018".
The Chino based location has ramped up production in anticipation of increasing sales in the last quarter of 2017 and first of 2018. During CHTC's first year in the U.S, they focused on getting real customers evaluation on their Motorcoaches. With this valuable information the company released its second-generation version of the coaches. CHTC will release their third-generation buses in January 2018 at the United Motorcoach Association Expo in San Antonio. Special attention was given to the appearance and amenities of these newest models. Included are leather seating in tan or black, a spacious lavatory and interior wood accents. Larger video monitors, quality speakers, Wi-Fi and multi-media offerings will enhance the passengers experience.
Standard equipment includes DVR, surveillance, multi-cameras and a black box. The CHTC Bus Group realizes that one of the biggest obstacles that its customers face is hiring drivers. Focusing on comfort, the driver's area has been enlarged, and the seat has all the bells and whistles to give the most comfortable ride possible. "We feel that we can partner with our customers by offering new products that will help recruit drivers," Thorpe said. "By offering these buses at a cost far below our competition, we allow our customers a greater return on our investment. "Our retail price point is less than our competitor's late model used buses." said Thorpe. CHTC buses have over 70% U.S. Content with Cummins engines, Allison transmissions, ZF suspensions, MCC air-conditioning, Alcoa wheels and Michelin tires. In addition to a recently expanded showroom & service center in San Francisco, plans for 2018 includes moving to a larger Chino facility, and opening more showrooms and service centers in Dallas, Chicago, Atlanta and New Jersey. These locations will have sales, service and support personnel plus an in-house finance department. "The goal is to always have 20 Motorcoaches available for immediate sale and delivery with dedicated service and commitment after every sale," Thorpe said.
Founded in 1998, CHTC Corp. has multiple worldwide operations, with the CHTC Bus Group being a major subsidiary. The company employs more than 50,000 people and operates 22 subsidiaries in 20 countries. The CHTC Bus Group has developed an integrated approach to bus design, research and development, and manufacturing. Manufacturing is done out of a state-of-the art 2 million-square-foot factory in Nanchang in southeastern China. Great pride is taken with the company in designing and selling safe and reliable buses around the world. It is one of the largest exporters of buses to Australia and the European Union. The company launched a new website at www.chtcbusgroup.com.