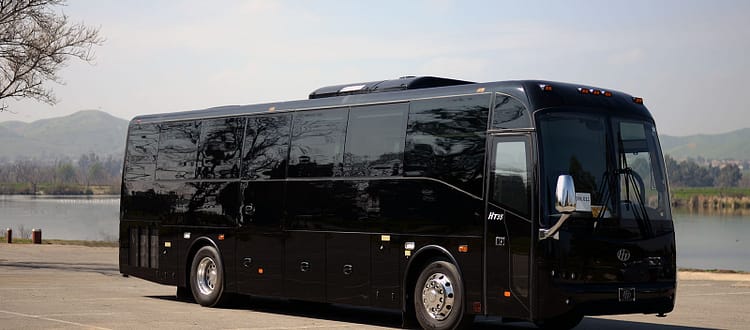 CARB retrofit? It might be time to reconsider the cutaway.
With the new CARB requirements coming into play, many cutaways will need to be retrofitted with PM (particulate matter) filters/DPF systems. Starting in 2020, vehicles that don't meet the air quality requirements will be blocked from registering by the DMV.
For these reasons, many operators in the limo industry are making the switch to 35 foot motorcoaches. Minibuses have several advantages over cutaways. Motorcoaches are much easier to maintain and are made with DPF systems. Drivers will already know the ins and outs of these buses.
The cost of maintenance is much more manageable for a motorcoach and there are more shops specialized in their repair and service. Also consider, with a 35 foot coach, such as an HT-35, the dealer's warranty will cover most repairs, and highly-skilled, dealer-trained technicians will be at an operator's disposal. These durable vehicles are built for use in heavy rotation, meaning their useful life will far exceed that of the cutaway.
The cost of retrofitting is where CARB really comes into play. Many cutaways are built using older engines. The condition of the engines may be like new, but they are still subject to the retrofit requirements because of their year of manufacture. It's fully possible to pay $200,000 for a vehicle and then pay an additional $18,000-$25,000 to retrofit it. By that point, for many operators, it's well worth it to spend a bit more to get a brand new motorcoach, with that warranty, and the added benefit of peace of mind.
Now, let's talk depreciation. It's not pretty. Those in a high-end market are accustomed to replacing vehicles every few years. A cutaway purchased for about $250,000, and retrofitted for an additional $20,000, will depreciate very quickly in the one to two years it's in service. When it's time to trade it in, that cutaway might get an operator around $50,000 – or even less. That means it will have lost 75% of its value, on average. The value just isn't there. However, the motorcoach will have retained most of its value. When the cost of retrofitting and depreciation are considered, is a cutaway even worth it? For some operators, the answer is surely a yes, but now, more and more often, the costs simply do not justify running cutaways for an operator.
With a 35 foot motorcoach, of course, these issues are solved, and there's a few other additional perks. If you want to carry 40 passengers on a cutaway, you're looking at 40-45 foot vehicles. That may not seem like a lot but ask your drivers. Every foot counts when comes to maneuvering a vehicle in a tight parking lot or on a cramped road. A 35 foot minibus can comfortably seat 40 passengers. To seat 56 passengers, that extra ten feet gets an operator into a full-size 45 foot motorcoach. Another plus is the ease of finding motorcoaches equipped with ADA doors. Cutaways can, of course, be designed for use as paratransit, but that means even fewer seats on an already small vehicle and some strange layouts that passengers might find undesirable, especially layouts that relegate those who use ADA doors to the back of the bus.
Even if you aren't impacted by the CARB decision, many states are considering similar regulations. It's well worth looking into what retrofitting requires and how it will affect your business. You might find that motorcoach is right for you, too.
Wonder what the fuss is about?  Not ready to switch to motorcoach?  Have a mixed fleet and are wondering if some of your vehicles need to be retrofitted to comply with the CARB regulations?  Register for a live class on their site, April 29th or May 8th for the first two available, found under "Truck & Bus Training Classes."